Investor Profile: Connor Freeman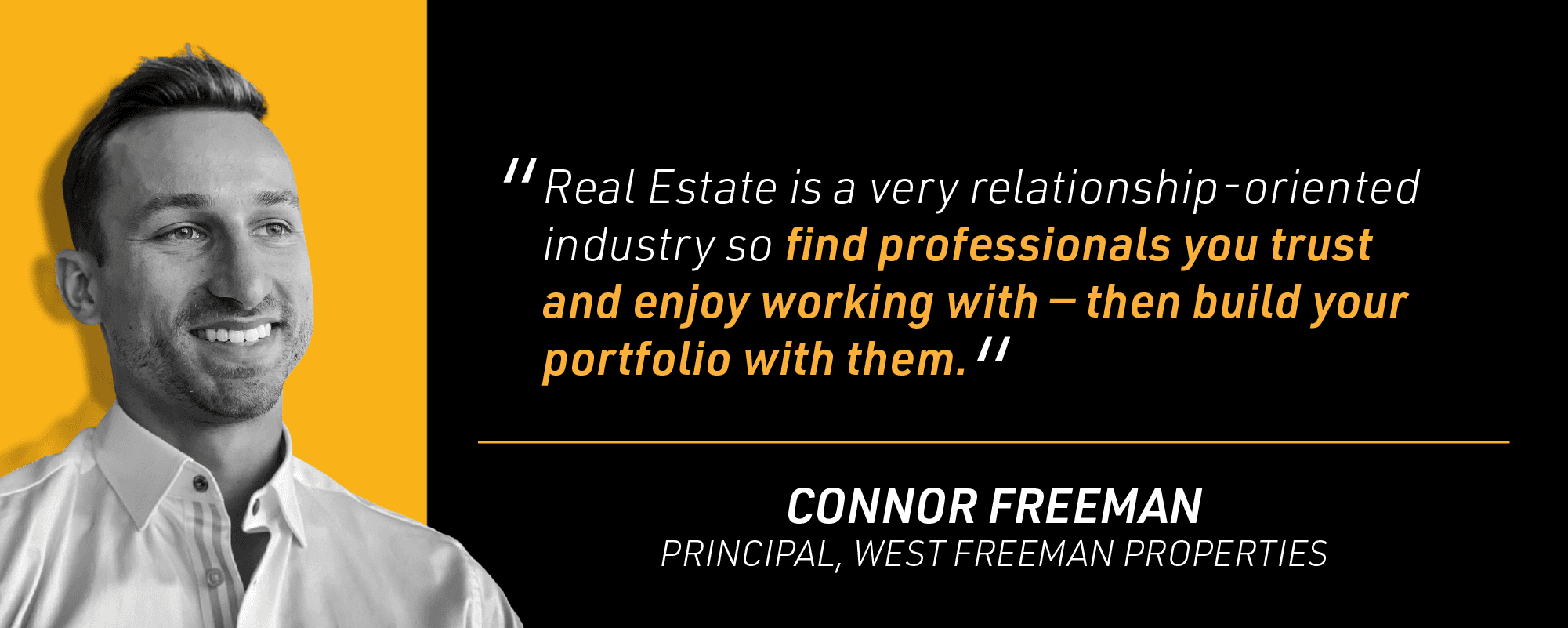 Investor Profile featuring Connor Freeman, Principal, West Freeman Properties
1. Where did you grow up? Where did you go to school?
I grew up in Seattle and attended Occidental College in Los Angeles. Go Tigers!
2. Who have been the strongest influences in your life? Why?
My family and, specifically, the generations that came before me, have been the strongest influences in my life. Real Estate tends to be a "get rich slow" business that appreciates patience and long-term planning. My grandfather recognized this and began accumulating real estate in the 1970s during Boeing's bust and the resulting local recession. He slowly grew his portfolio and eventually brought my parents into the fold who continued doing the same. Now the baton and the cumulative lessons learned have been passed on to me.
3. What most motivates you, and what are you looking forward to accomplishing?
I owe tremendous gratitude to my parents, grandparents, and every one of our dedicated employees. Growing the business/portfolio allows me to reward those who have helped us achieve all that we have. There is no single goal; we hit a milestone, then start working toward the next one.
4. What are your die-hard best practices in managing your investments?
Working with relationship-oriented professionals like CPX has been a critical element of our success. We strive to only work with professionals whose interests are aligned with ours, and who are not transaction oriented. We scrutinize every investment on both an individual and portfolio level; having a trustworthy team that knows us and our portfolio adds a layer to this scrutiny.
5. Tell us about your time management – how do you spend a classic workday? A standard Saturday or Sunday?
The beauty of financial independence and running your own shop is the ability to shape your schedule. Depending on your interests, you can be as involved or divested from the day-to-day as you would like. The bulk of my time is spent with my property management team here in Seattle. I also spend a few hours a week consulting with the property management companies that operate our out-of-state holdings. I monitor emails constantly and am certainly more involved with the nitty gritty at my properties than I need to be, however, I have the freedom to spend a sunny afternoon out boating if I choose.
6. What do you consider "deal magic?" What is your biggest differentiator?
We have formed great professional relationships with teams at every stage of the transaction. Every potential investment is vetted with our trusted investment advisors / real estate brokers, mortgage brokers, and insurance to ensure the deal makes sense. Their informed opinions help confirm assumptions and avoid any nasty surprises. When we decide to pursue a deal, we do so with integrity and a healthy respect for the other side, as reputation can impact future deals.
7. What would you have done differently if you had the chance?
Avoid investing in condominiums. HOAs can be a bitch.
8. What was your biggest lesson / learning experience in your investment career?
Success in real estate development is largely dependent on factors outside of your control, especially timing. Three years ago, Seattle was one of the hottest markets in the world with a dearth of housing. Our post-pandemic environment features supply chain constraints, a tight labor market, and increasing interest rates, all factors that are out of our control and add to development costs.
On the other hand, we did not know enough about development to know our site wasn't ideal and we did not team up with an experienced developer. You don't know what you don't know, so consult with professionals that will shine a light on potential pitfalls.
9. What is your proudest accomplishment?
The pandemic forced our company to move offices. I never gave my parents keys to the new one, effectively forcing them into retirement. They have been enjoying retirement ever since, not having to worry about finances or day-to-day operations.
10. What are your Top Five, must-see industry reads each day?
I begin every morning with reading the Puget Sound Business Journal. Biznow has a great "15 Things to Know" newsletter as well. Specific to property management, Multifamily Executive has a magazine that showcases new tech and trends. Articles in the Wall Street Journal provide national and international perspectives.
11. Favorite podcast?
New York Times' The Daily is fantastic. I cannot recommend it enough.
12. Favorite artist / band / group / creative outlet?
During my first visit to Minneapolis, Odesza was performing at a local venue. I now try to plan my out-of-state site visits around shows at the Armory.
13. How do you spend a much-needed day off of work?
We are blessed to live in such a wonderful part of the world. My family spends quite a bit of time boating on Lake Washington and yachting around Puget Sound. Skiing in the mountains is a favorite as well.
14. Is there anything you'd like to share with the CPX investment network?
Real Estate is a very relationship-oriented industry so find professionals you trust and enjoy working with - then build your portfolio with them. Do not hesitate to share your financial information or ask questions. The more you share and the more you learn, the better your investment decisions will be. Compensate these professionals accordingly, as everything comes full circle. A rising tide lifts all boats.
15. What do you think will be the biggest disrupter in your space in the next three years?
It will be interesting to see what happens with remote work and office space. The landscape is still unfolding, and wherever it lands will have major implications for real estate investors.
16. What role is technology playing in your business?
Property management software continues to get better, but property performance within its submarket ultimately comes down to the on-site team. Tech is only as useful as the individuals utilizing it, but nothing boosts a property's performance like a team member that genuinely cares for the property and its residents.
17. How has the current market affected your outlook going forward? How has it changed your business model?
Increasing interest rates and the threat of a potential recession have forced us into a holding pattern. Our portfolio is currently well balanced between value-add and stabilized properties in different markets, and none of our assets are overleveraged. Certainty is a key factor in any investment decision, and right now, there is little certainty in the market. We do not intend to trade any assets or take on new debt until the market has settled.