Investor Profile: Ben Kilo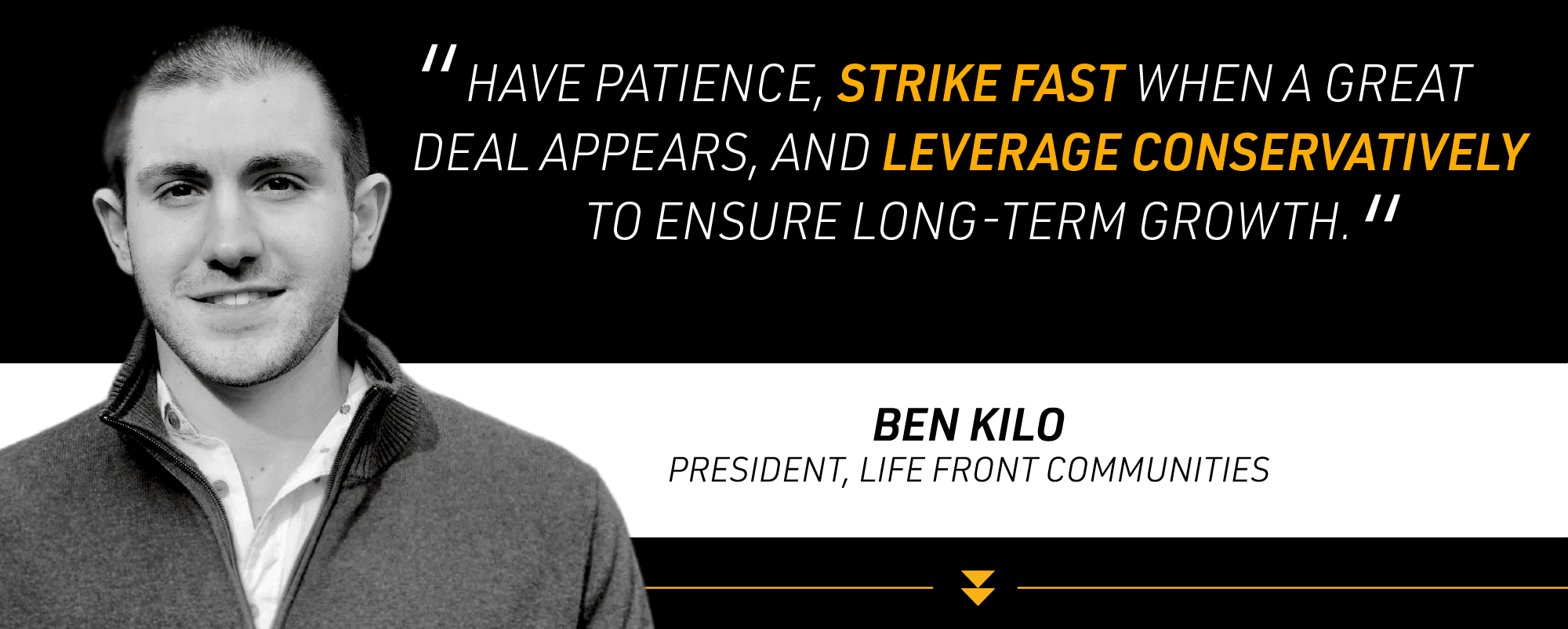 Ben Kilo
, President,
Life Front Communities
Q. Where did you grow up? Where did you go to school?
A. I grew up in Portland, Oregon and went to Oregon Episcopal School for high school and University of Colorado Boulder for two years of college. I then dropped out to work on my own business.
Q. Who have been the strongest influences in your life? Why?
A. My grandfather was a humble, successful, and all-around liked businessman. He started with nothing, took risks, and always did what he loved, which is why he worked his whole life through.
Q. How did you end up in commercial real estate?
A. My high school friends' parents owned (and still own) mobile home parks. I learned a lot from them throughout high school and applied it to real life after leaving college.
Q. What are your die-hard best practices in managing your investments?
A. Over leveraging is the easiest path to financial ruin. Have patience, strike fast when a great deal appears, and leverage conservatively to ensure growth over the long term.

Q. Tell us about your time management – how do you spend a classic workday? A standard Saturday or Sunday?

A. No specific schedule. Standard day consists of talking with brokers, sellers, property management, handling loans, performing site visits, etc. Weekends is a continuation of the week's work with less calling since others are off, otherwise I'd keep working.
Q. What is your biggest differentiator?
A. My team is me. I outsource management, accounting, etc. and therefore am not overburdened with employees. That allows me to pivot quickly if needed.

Q. What would you have done differently if you had the chance?

A. Not attempt to grow out my hair … not a good look.

Q. What was your biggest lesson or learning experience in your investment career?

A. I held a stock position for too long when I was young, decline led to a multi-year hold period back to the same level. There is always a time to sell everything … don't get greedy.
Q. What is your proudest accomplishment?

A. Having a group of friends with an equal desire to succeed.
Q. What are your must-see daily industry reads?
A. Real estate Twitter and general Internet news.
Q. Favorite podcast?
A. Real estate wise: The Fort with Chris Powers.
Q. Favorite artist / band / group / creative outlet?
A. Listen to a wide variety, listening to country on the plane as I type this.
Q. How do you spend a much-needed day off work?
A. Working out, skiing, going out to eat with friends, cooking, traveling, etc.
Q. What do you think will be the biggest disrupter in your space in the next three years?
A. Further rent control, which hopefully does not materialize. The biggest disruptors to real estate are those in the government that are uneducated.
Q. What role is technology playing in your business?
A. Technologically speaking, the real estate world seems to stay in the stone age. A phone is what I need to talk to sellers/brokers, and a computer to put the contract together. I don't use many tech products.
Q. How has the current market affected your outlook going forward? How has it changed your business model?
A. This market has taught me to think longer term; it acts irrationally in the short term, which can produce good deals, but can cause value swings in owned assets. Downturns are amazing if well capitalized, so I'm excited about the current state of affairs and look forward to the future. Nothing has changed, keep growing.