Investor Profile: Chris Waddle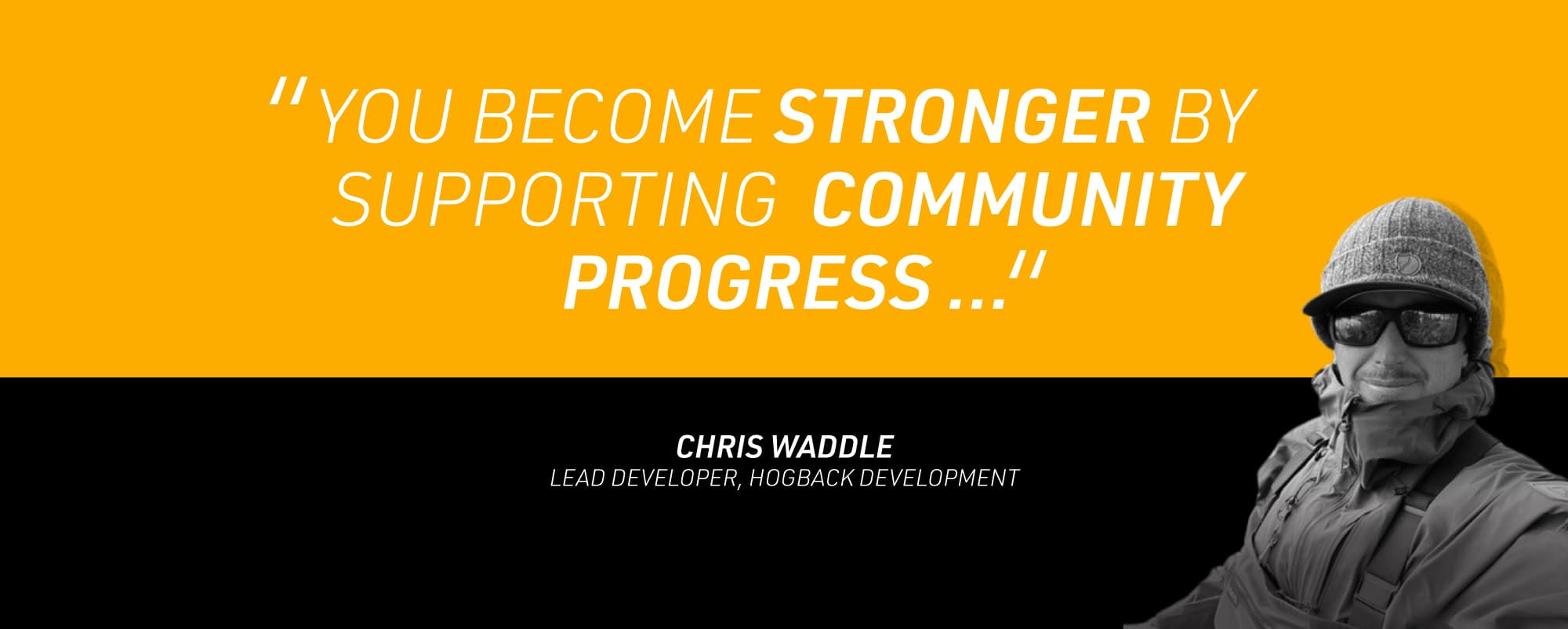 Chris Waddle, Lead Developer, Hogback Development
Founder, Yakima Mile
Q: Where did you grow up? Where did you go to school?

A: I grew up in Yakima, Washington and went to Eisenhower High School there. I started undergrad at Manhattan College in the Bronx for two years and went to University of Georgia in Athens for a full-ride track and field scholarship.
Q: Who has been the strongest influence in your life? Why?

A: My high school track coach, Phil English, who is still the head track and field coach at Eisenhower High School where I part-time volunteer coach; my son is on the track team. Coach English was someone that — early on — took an interest in me and taught me a lot about dedication, hard work, and perseverance, which are helpful character traits as you move through life. I was a difficult kid to deal with and got in a lot of trouble; he was always patient with me, and never gave up on me.

The other person is my wife, Angie. We got married while we were still in college; she was 19, I was 20. It feels like we've lived three or four lifetimes together, and we'll have been married 25 years this June. She is the complete opposite of me and we complement each other well. I am ego driven and she has made it her job to be a student of the ego. She has really balanced me out and kept me grounded for 25 years — even more so in the last two years. There's never been anybody that's challenged me more personally than my wife.

Q: How did you end up in commercial real estate?

A: After attending the University of Georgia, I worked as a restaurant manager at Zaxby's in Athens, Georgia while they were in a rapid development phase. I was promoted to Training Manager, and then to Regional Manager before I became a franchisee. I was a tenant on a build-to-suit doing a turnkey. The developers turned around and sold to a 1031-exchange buyer out of California, so I learned the process from the inside out. I sold that business and moved back to Yakima, and got into real estate through flipping houses. I read all the books, and flipped houses and real estate contracts with local, residential lower- to middle-income homes. I knew it wasn't sustainable, so I obtained my real estate license and became a broker. In remembering my experience with Zaxby's, I approached a residential real estate brokerage to begin a commercial division. On day one, I was trying to sell a Walgreen's. I immediately got tied into things like ICSC and found myself repping a lot of tenants like Dollar Tree and Starbucks. I realized that I was putting together deals for tenants, developers, and landlords, and the question became, "Why don't I just bring in a partner and do it myself?" My first deal doing it all was a redevelopment for O'Reilly and Dollar Tree in a 50-year-old Safeway that we purchased from the United States Postal Service.

I was cold called on that deal in 2011 by CPX's Sean Mack and asked if I would sell to buyers he was representing; I told him "no" the first three times and the rest is history.
Q: What are your die-hard best practices in managing your developments?
A: Some properties we keep, like hotels. We're about to close on the acquisition of our fourth hotel and we have some larger shopping centers we've kept. We do smaller single tenants like Starbucks, Wendy's, Habit Burger, and others. We've always looked at Hogback as a real estate development company, and outside of Yakima with our tenants, most people would recognize us as a retail commercial real estate company. In Yakima though, we act as a community partner through activist programs. Examples of our activism are:
At Eisenhower High School in Yakima, there are 60-100 homeless high school kids attending at any given time. Hogback spearheads Thanksgiving dinner by partnering with a local restaurant that makes 300-400 meals for kids. We hand them out Thanksgiving morning every year.
Rosalma Garden Club Park, Yakima: We identified a small park next to a local junior high that was not well maintained, and its grass had turned to dirt. We partnered with a local commercial landscaping company and redeveloped the entire park. We were able to partner with the City of Yakima, and get the park a better maintenance contract.
Weed Yakima Project: You get used to weeds in eastern Washington, especially with a wet spring. The City does not have the resources to pull all of the weeds from the city, and property owners are required to pull them. Some people are unable to do that, so we partnered with local restaurants for gift cards that we purchased, which we offered to groups in exchange for an hour of "weeding." It was so successful people were requesting more areas … even church groups got involved.
Since 2019, the Yakima Mile has been benefitting Yakima's domestic violence hotline. Yakima is No. 1 per capita in Washington state for incidents of domestic violence; 30% of 911 calls are domestic violence calls. Enter the Yakima Mile fundraiser, a point-to-point race that begins and finishes on Yakima Ave. Kids 18 and under are free, and the entire event is put on by community partner sponsors. There are 11 different races with fun for all ages and abilities. The actual fundraising portion of this event is called Miles Against Violence tied to Missing & Murdered Indigenous Women. The race's spokesperson is a distance runner at University of Washington — Rosalie Fish.
Q: Tell us about your time management – how do you spend a classic workday? A standard Saturday or Sunday?

A: My wife says I'm an expert at self care. Most mornings, I work out at the YMCA. I get to the office around 11am and work, meet with staff, and usually take off by 2:30pm — I like to be home when my kids get there. Six out of seven nights a week, I make dinner.

I do a lot of fly fishing locally on the weekends, and unless it's wintertime, I do triathlons, road bike trips, and some swimming. In the winter, I ski.
Q: What is your biggest differentiator?

A: We like to keep our focus first on our community involvement, and then on our real estate development company. My family, staff, and community would all agree with that. We are a for-profit company and want to maximize profits for ourselves and investors. We enjoy staying grounded. I say "no" to more projects than I say "yes." Projects must align with our talents and cannot take away from our involvement in the community.
Q: What would you have done differently if you had the chance?

A: Nothing ever. I'd gladly make every mistake again. I've had massive failures and learned from them all.

Q: What was your biggest lesson / learning experience in your investment career?

A: My failures. In 2004, I sold Zaxby's for a loss and moved back to Yakima. I learned a lot from that experience, and it's always in the back of my mind, driving me forward in not wanting to be in that position by miscalculating again.

Q: What is your proudest accomplishment?

A: My kids. We have nine kids - two biological and seven adopted children. Being able to have the resources to care for my kids and have a partner in my wife is the driving force behind all that I do. Our biggest accomplishment is being involved in my kids' lives.

Q: Favorite podcast?

A: Dax Shepard's Armchair Expert


Q: Favorite artist?

A: Mac Miller & Kendrick Lamar


Q: Is there anything you'd like to share with the CPX investment network?

A: I would encourage others to get involved in their community for the butterfly effect. You become stronger by supporting your own community progress and by developing weak links, you'll be much happier for it.
Q: What do you think will be the biggest disrupter in your space in the next three years?

A: It's difficult to say what interest rates are going to do, and in another three years, we're going to have another presidential election. I'd say 1031 exchanges, most likely.