INVESTOR PROFILE: TERESA WORDEN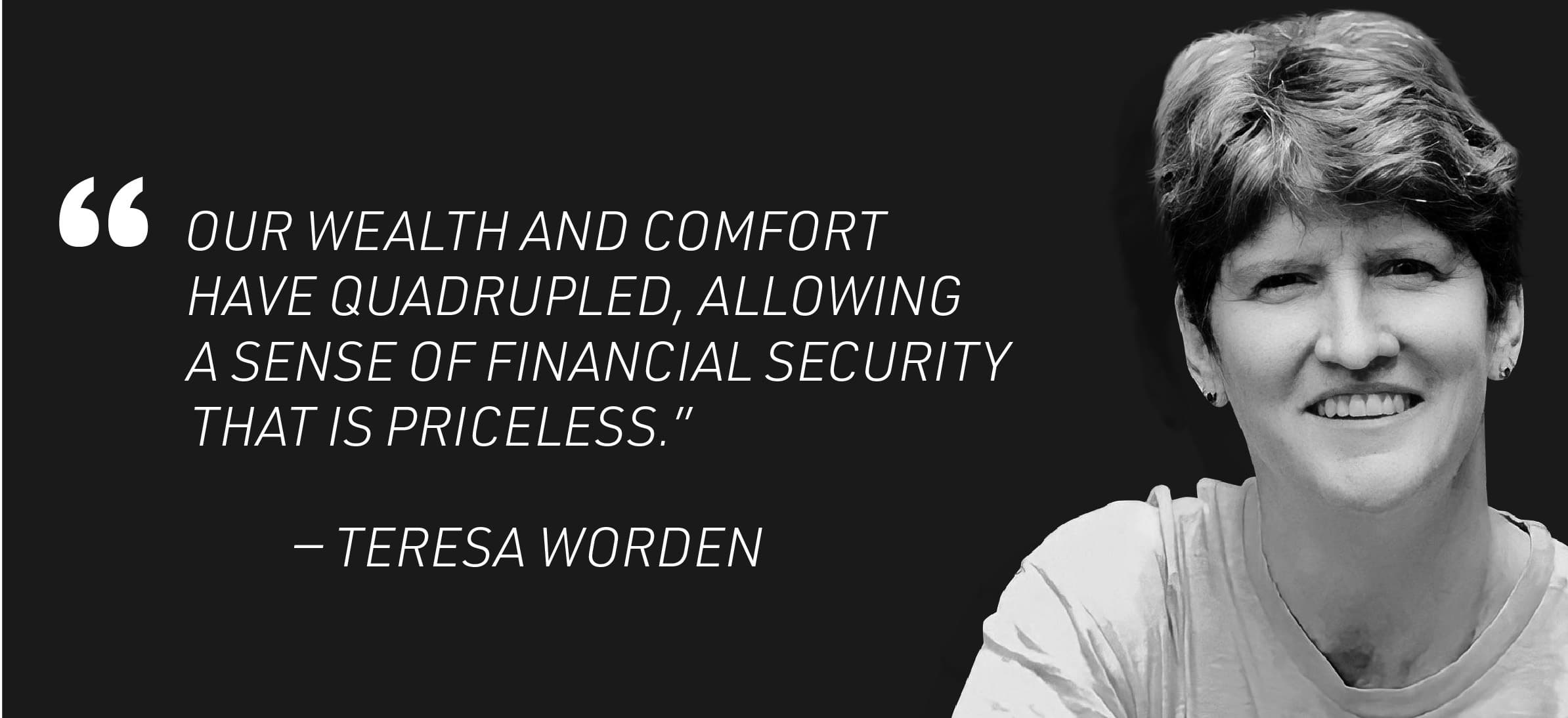 Q: Where did you grow up? Where did you go to school?
A: Born in California and my family moved to Washington before I was two years old. I grew up in Entiat, Washington. I attended Entiat Public Schools all 12 years. At Wenatchee Valley College, I earned my first degree in Radiologic Technology in 1984 (X-Ray Tech) and my second degree in Dental Hygiene in 1993 from Shoreline Community College. These occupations paid for general life expenses and hobbies, but our wealth grew from working after our primary job was done for the day — our first rental investment, which grew successfully into another, and then another.

Q: Who has been the strongest influence in your life? Why?

A: My husband Scot was my biggest influence and best friend. He taught me so much about planning to achieve five- and 10-year goals repeatedly. Scot opened my eyes to real estate investments very early in our marriage — we worked well together. A network of friends with multiple skills and ideas grew our own knowledge base until our motto became "If You Can't Dream It, Then You Will Never Do It!" I am so grateful that we taught each other so much about having a solid, balanced life during our 32 years of marriage. Unexpectedly, he died in 2022. This foundation we built together has allowed me to continue a healthier emotional outlook on life as I move forward. Our choice to engage property management through Jason Kono of Pilot Ventures has allowed me to continue to evolve our real estate portfolio. I have been blessed to have so many great people touch my life, starting with teachers who influenced my academic scholarship choices through professional relationships that even led to introducing me to my husband. I have learned that when opportunity knocks, I should, at the very least, answer the door and see if I want to invite it into my life!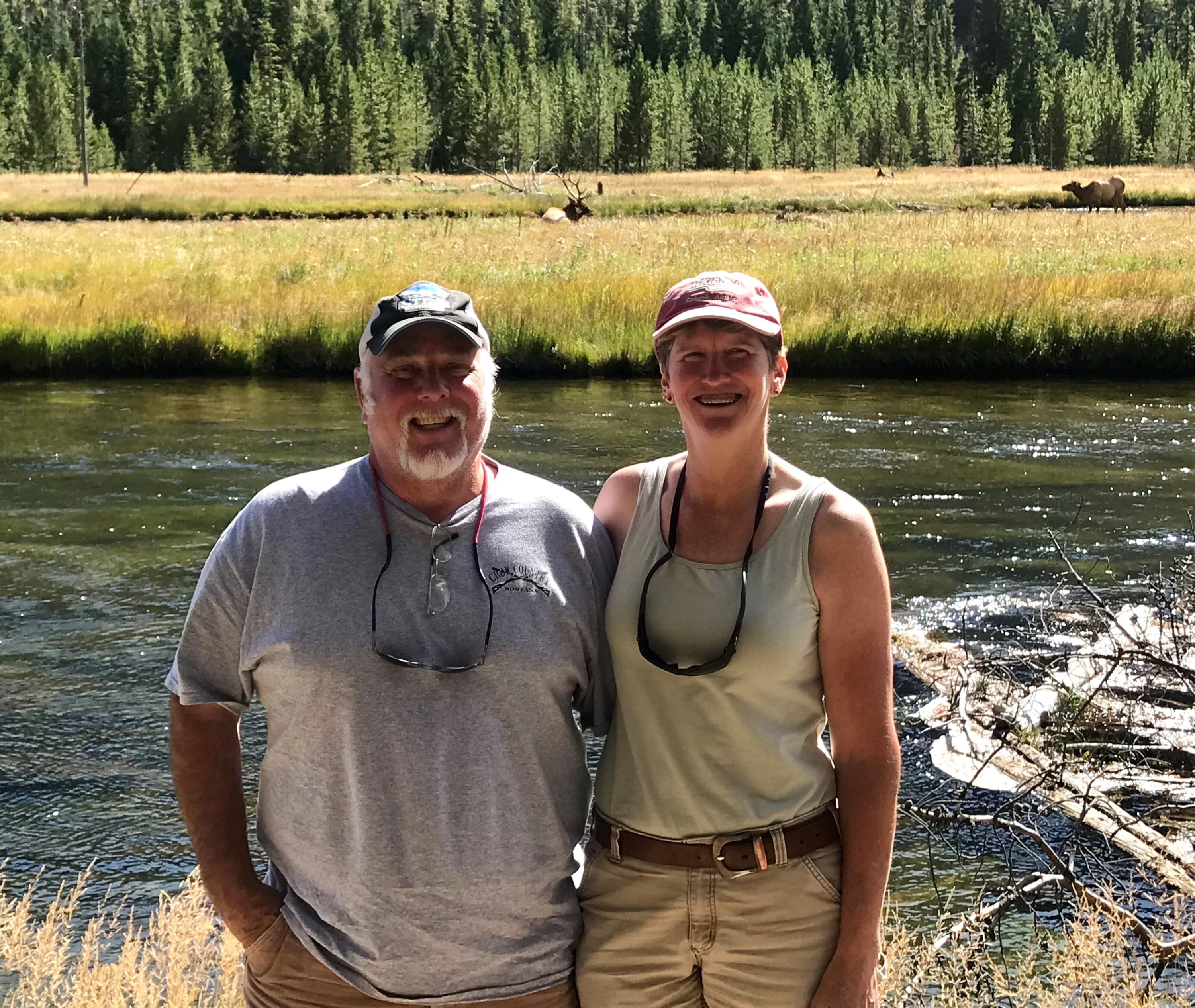 Q: How did you end up in commercial real estate?
A: My father-in-law owned a couple of single-family rental houses so my husband learned those experiences firsthand. Scot introduced me to the real estate investment idea early in our marriage and I agreed it was a good choice for us. Our first rental real estate venture was purchasing and operating a duplex south of Green Lake on our own in 1997. We joined the Rental Housing Authority Association and educated ourselves on the legalities, responsibilities, etc. In 1998, we purchased a building with both commercial and residential spaces so that my husband's dental laboratory could move into our own building. In 2007, we answered a phone call from Casey Zejdlik, with whom we met, discussed, strategized, and then committed to doing our first 1031 exchange of a duplex into a seven-unit multifamily building in the same neighborhood.
Casey was superb in guiding us through this transaction which led us to work with him for several more purchase and sale transactions. When consulting with Casey in 2009, we decided it was time that Scot could retire at age 55 and sell his dental lab business. In 2014, we consulted with both Casey and Jason Kono about Pilot Ventures handling our property management operations, thus allowing us full retirement. We had high expectations from Pilot Ventures and they did not disappoint us.
Communication has been easy between us and our tenants, who reported they feel valued and happy to renew leases, which is reassuring to our investment, and to us personally. The Pilot Ventures team has been great to work with and in brainstorming solutions to solve the few problems that occurred.
We felt Casey and Jason were very knowledgeable at both acquiring and managing real estate. They were thorough in analyzing properties and in dealing with the legal and accounting paperwork involved, so when they had a syndication investment offering in 2014, we researched and invested with them. We have had such a well-earned, trustworthy relationship with Pilot Ventures over the years as we executed traditional PSAs and 1031 Like-Kind Exchanges for single- and multiple-property transactions on both the buy or sell ends of those transactions.
Casey and Jason have the knowledge, integrity, and eye for detail to make the process less stressful by providing the necessary information for me to be comfortable with investment decisions. Since Casey and Jason have been involved in our real estate portfolio, our wealth and comfort have quadrupled, allowing a sense of financial security that is priceless to me and my husband while he was alive. My only improvement for Pilot would be to have met Casey and Jason 26 years ago instead of only 16 years ago. Our best decision was to allow Casey that first opportunity to show us what he can do during the sale of our duplex, which led to many more successful transactions. Even during the very complicated multiple property exchanges, Casey managed the details superbly.

Q: What are your die-hard best practices in managing your investments?
A: Research and analysis from every angle possible. I hire talented, knowledgeable people who have my best interests in mind because when I do better, it will provide for them as well. Monitor reports constantly and tenant satisfaction regularly.

Q: Tell us about your time management – how do you spend a classic workday? A standard Saturday or Sunday?

A: Again, I am retired! I wake up, stretch out, grab coffee, walk my dog Eddie, review and prioritize what needs my attention in household operations, Pilot Property Management business details, or private life chores on my 20-acre rural house property — then I get busy.
Weekends or free time: I dream about my next vacation and business opportunity; visit family and friends; ride my e-bike or hike with my dog; cook, bake, and home-can foods; birdhouse projects; sewing projects; and learn more skills for maintenance on recreational toys and around property.

Q: What is your biggest differentiator?

A: My ability to "continue moving forward," even under extreme stress, and always look for learning experiences, preferably positive, from events. Another is the ability to ask for help when I really need it.

Q: What would you have done differently if you had the chance?

A: Expanded my investment horizons much earlier in life. Somehow have had the fate to meet Casey and Jason even earlier in our lives.

Q: What was your biggest lesson or learning experience in your investment career?

A: Honest, knowledgeable professionals are hard to find, and are definitely worth their wages. Don't follow crowds; understand that it's okay to question why a person is recommending a certain route or method to success.
Q: What is your proudest accomplishment?
A: Knowing that I am a good person who is comfortable with my true self. Also, my ability to continue living on 20 acres and succeeding after Scot's death in maintaining our business assets and the financial security we created together.
Q: What are your Top Five, must-see industry reads each day?
A: RHA, real estate sales ads, market trend reports, Epoch Times newspaper, and articles from friends

Q: Favorite arist / band / group / creative outlet?

A: Melissa Etheridge, Van Morrison, Dwight Yoakam, Elle King, classic '70 and '80s rock & roll, and newer country music artists

Q: How do you spend a much-needed day off of work?
A: Getting outdoors, moving my body to alleviate computer-based bad posture discomfort, preferably in nature with my dog, getting together with close friends, baking and cooking with family, and a massage or mani-pedi.

Q: What role is technology playing in your business?

A: Technology allows me to monitor the management of my properties, real estate, and financial investments so my questions are more concise when contacting Pilot Ventures staff

Q: How has the current market affected your outlook going forward? How has it changed your business model?
A: Unsteady economy, decreasing personal responsibility models and laws in our society, and my newly widowed marital status as a multiple multifamily property owner have me relying on Pilot Ventures to answer questions and reassure me that my business choices are wise based on their much wider knowledge base of current trends in rental markets, sales metrics, property management, and legal and accounting processes.