2022 CRE Outlook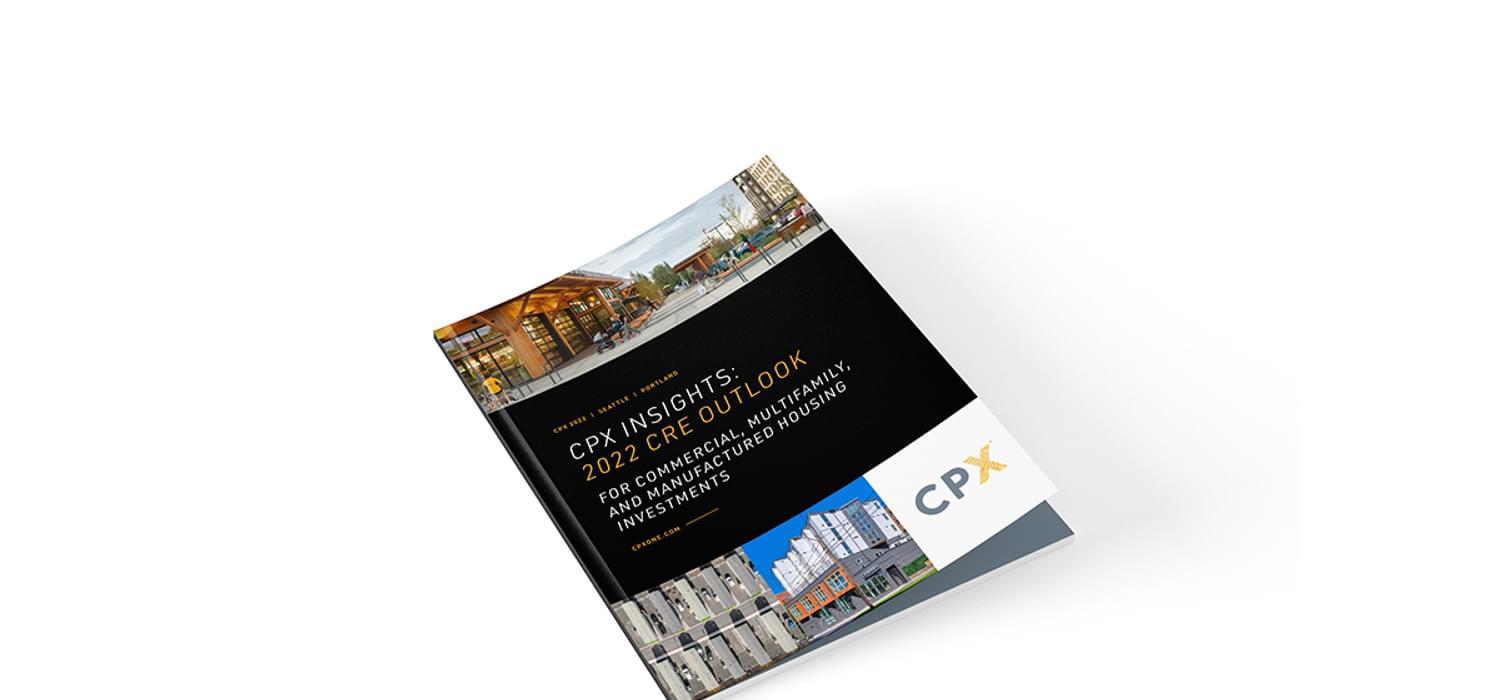 April 2022 | CPX Insights

We're only a few months into 2022 and our overall outlook for CRE investment sales is one of cautious optimism. We expect to see a continuation of rental growth and sales volumes in the multifamily and manufactured housing investment markets. Retail investment volumes are off to the biggest start in history, surpassing 2019 record-setting numbers. Much remains to be seen for the office market, as companies explore the return to offices post-pandemic.

MULTIFAMILY OVERVIEW

Despite eviction moratoriums and government-imposed restrictions on rent increases, the West Coast Multifamily sector continues to experience a hot market, thanks to competitive housing dynamics creating a favorable pro-renting environment.

While we predict strong rent growth for apartment building investments in 2022, the Federal Reserve's six anticipated rate hikes this year, and the potential for three more in 2023, may push cap rates higher in the latter part of the year and into 2023.

"Those who believe we are in for a long period of inflation might find it advantageous to buy now while debt is still attractive and rents rebound in urban markets", notes Jason Kono, Multifamily Managing Partner at CPX. "Alternatively, those who have thought about selling should consider doing so while the cost of money is low, buyers can take advantage of maximum loan dollars and are forecasting large increases in rental rates."

MANUFACTURED HOUSING OVERVIEW

Following a stellar year in 2021, manufactured housing continues to be the new darling of commercial real estate investments. "While other asset classes continued to struggle with rent collections and occupancy, manufactured housing, experienced its highest collection rates ever in 2021," says Tyson Cross, Director of Manufactured Housing at CPX.

When 2021 cap rates continued to compress to all-time lows, and price-per-site was higher than it had ever been, the demand for manufactured homes and RV parks for sale continued to steadily increase driven by what some view as an untapped opportunity in the sector.

With demand at an all-time high, we expect to see another strong year of sales in 2022 as more investors are looking to diversify into the manufactured housing market.

RETAIL OUTLOOK

The retail investment market has not only accelerated but surpassed its record-setting levels of 2019. While NNN real estate investments kept the retail property investments market afloat for most of 2020 and 2021, that momentum has now carried over to multi-tenant investment sales beginning with a strong second half of 2021.

Retail real estate inventory levels for 2022 continue to look tight as triple net properties for sale under $3 million are scarce and typically receive multiple, often all-cash offers, within the first few weeks.

"The Federal Reserve's recent interest rate hike will likely have little to no impact on smaller NNN properties for sale given how many cash buyers are currently in the market," says Lance Sasser, Senior Commercial Broker at CXP. "Some rate increase has already been factored into current debt pricing with secondary and tertiary unanchored centers being impacted first."

OFFICE

Unlike retail, multifamily, and manufactured housing investments, the 2022 outlook for office remains murky. The pandemic obliterated the office market, reshaping many attitudes and beliefs previously held about remote working.

Today, one in three companies now favor making half or more of their workforce remote. A recent Gallup survey of 140,000 U.S. employees found that 42% said they would prefer their employers offer hybrid-work options compared to just 19% who would prefer to be back in the office full-time.

"It's still too early to tell how a post-pandemic hybrid work environment will impact office space, regardless of location", notes Michael Kapnick, Senior Commercial Broker at CPX. "What we do know is buildings with small office spaces or buildings that can be demised into smaller workspaces are likely to provide better cash flow for those looking to invest in office property in a post-pandemic world."

THE TAKEAWAY

Our 2022 outlook for retail, multifamily, and manufactured housing real estate markets is one of continued growth and extreme competitiveness due to a lack of existing inventory and new construction. What will happen with the office market remains to be seen as employers are adjusting to new hybrid-work environments as employees re-enter the office.