Investor Demand Will Remain High for RV Parks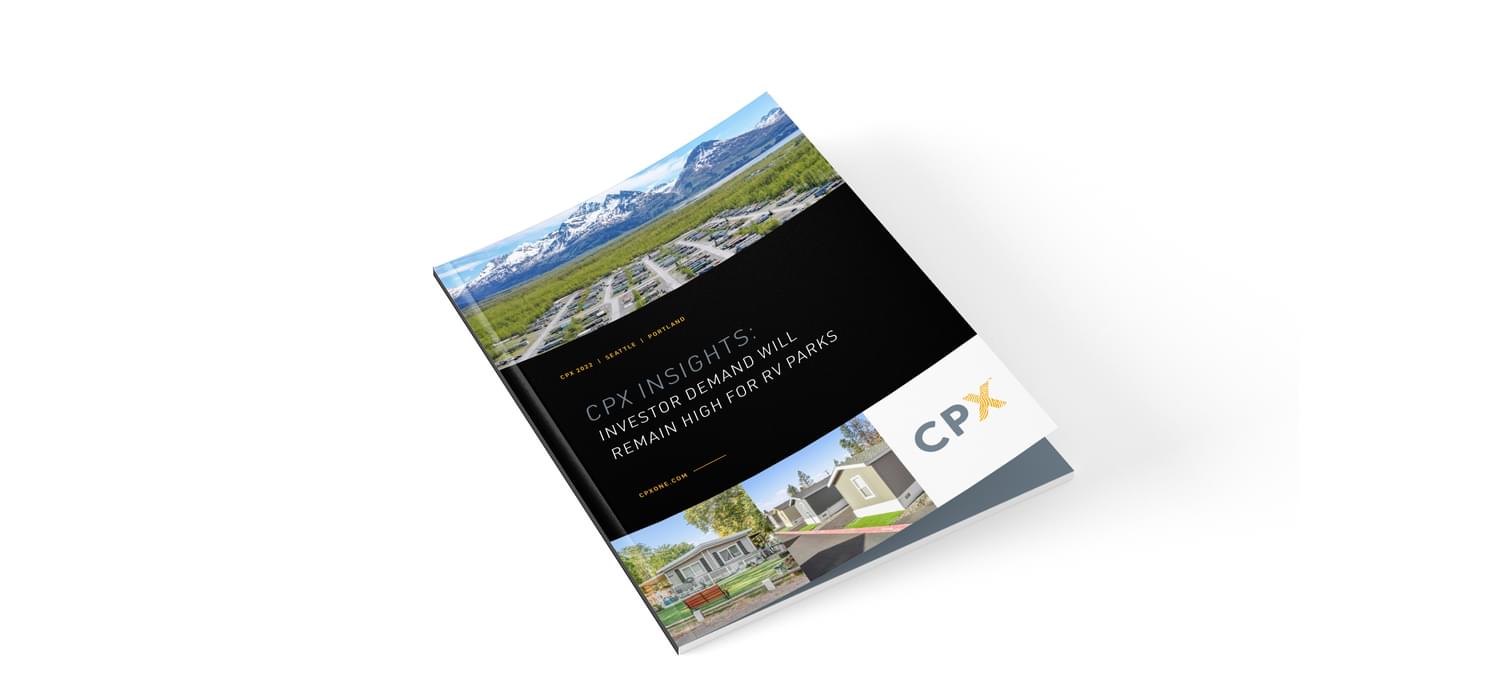 September 2022 | CPX Insights
by Tyson Cross, Director, Manufactured Housing
Recreational vehicles provide more than a journey from National Park to RV Park. After all, RVs spend more time parked than on the road, giving rise to unprecedented market trends and the investment opportunities that follow. Every aspect (good and bad alike) of the economy since 2008 has continually primed the RV Park pump for the continuation of year-over-year profits.

What is Causing the Growth in RV Park Investments?

These homes-away-from-home have become home-sweet-home for a growing number of families numbering 1,000,000 according to census data. This trend of primary (and only) residence adds to an already established industry which has been climbing every quarter since 2009. The housing crash of 2008 nudged displaced homeowners into an RV, and subsequently RV Parks. The market hasn't looked back since.

Today, we're witnessing the migration of current RV Park owners into retirement, which has left a national void of owner-operators to oversee the heightened reservation demand. This phenomenon is further punctuated in the greater Pacific Northwest which claims 3 of the Top-10 RV destinations. The departure of the old guard has ushered in possibilities for generous gains.

"Although the RV industry is already a $120B enterprise, experts agree the upper limits are far off. With current 20% profit margins (that are widening), RV Parks, and the host of corresponding income streams, are here to stay", says Tyson Cross, Director of Manufactured Housing at CPX.

These properties are the new blue chip, underpinned by the shift from rural to urban areas. The spike in consumer demand has generated a proportional surge in revenue. This breakneck pace will persist thanks to 50% of Millennials who are currently planning an RV vacation. Studying the data shows more of the same: 2020 to present day RV sales reveal the largest sales increase in the history of data reporting. Several West Coast states have already crossed $100M in annual RV revenue, including California, Washington, and Oregon - a rare feat only a handful of the 50 states can claim.

Why has Investing in RV Parks Become so Appealing?


With over 5,000 existing RV Parks, an 11% ever-expanding number of households that own an RV, paired with high resale value (consumer confidence), and an incredible 34% change in Americans who now consider RV parks in their vacation plans who would never consider them before...the RV Park investment has become the blue chip in a strategic portfolio.