The Correlation Between Seattle Unemployment & Unpaid Rents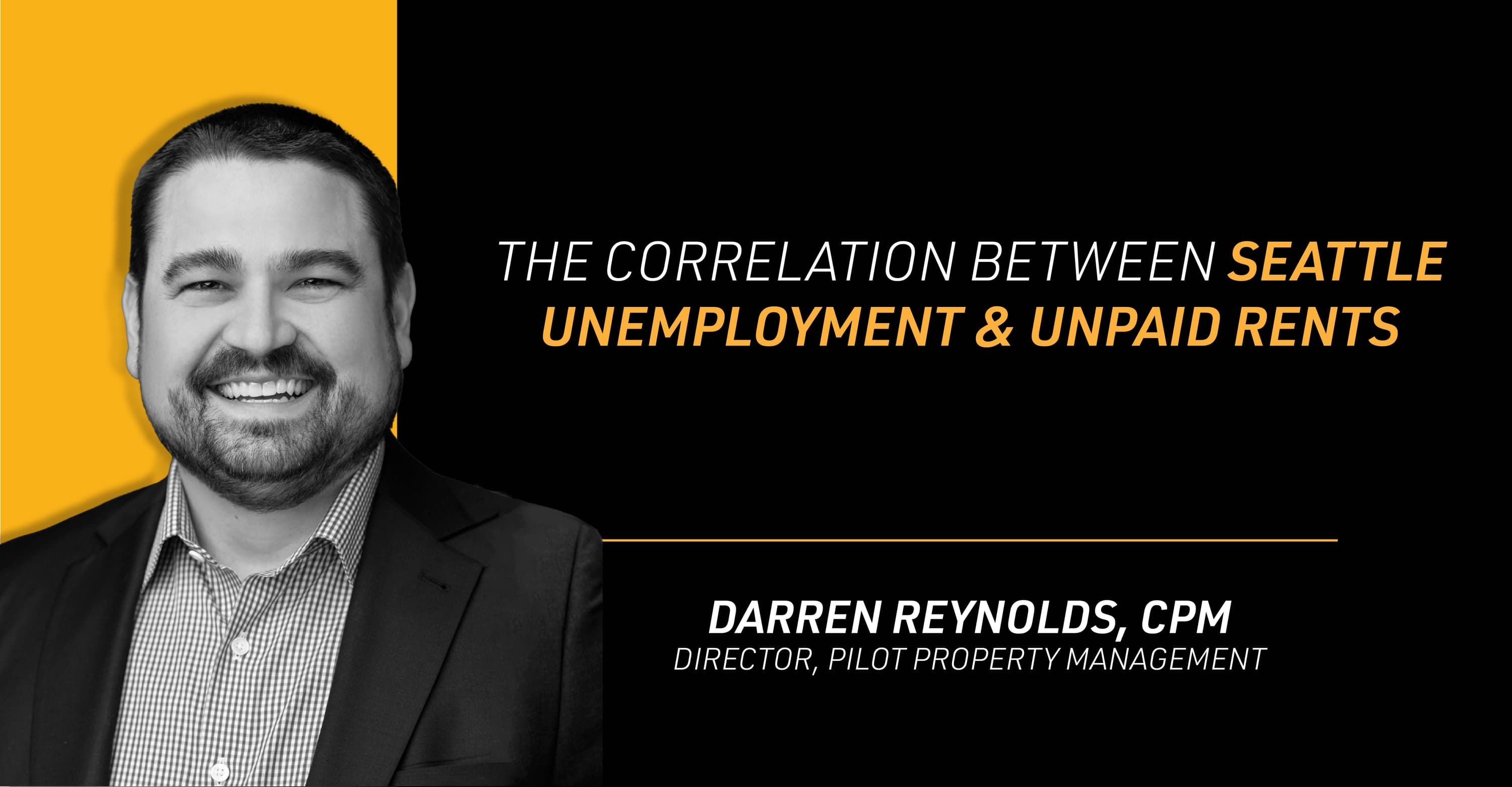 THE CORRELATION BETWEEN SEATTLE UNEMPLOYMENT & UNPAID RENTS

By Darren Reynolds, CPM
Director, Pilot Property Management

In the past few years, we all have earned our pandemic regulation stories. When discussing the eviction moratoriums from the federal level down to our local Seattle Mayor's orders and City Council regulations, the response is quite different, depending on our lived experience. Thoughts range from it being an unlawful overreach to a rescue from homelessness. During this timeframe, our property management team has worked tirelessly to keep up with changing regulations and navigate each update to meet our client's needs. Along the way, each day was a challenge, and each moment felt like the hardest one yet. With the state legislative session starting in a matter of weeks, it became a good time to chart how cumulative delinquent rent has changed over time and correlate any possible relationship to either unemployment or regulation.
The graph below charts unpaid rent in Pilot Property Managements' Seattle portfolio from January 2020 through November 2022. It also charts the unemployment rate in Seattle during the same time period. The definitions and sources of the data are:

Percentage of Historical Delinquency: The past due rents in our portfolio expressed as a percentage of our pre-pandemic delinquency; 100% would mean maintaining previous levels of unpaid rent. Debts include current and past tenants and reflect assistance payments.

Seattle Unemployment: The Employment Security Department published the unemployment rate for Seattle.
10-year Average Unemployment: For Seattle from January 2010 through December 2019.



There are a couple of meaningful dates marked by the vertical lines A and B:
A: Seattle's Emergency Order, March 16, 2020, created an eviction moratorium
B: End of Eviction Moratorium, February 28, 2022 (Civil Emergency still in effect)
There are additional eviction protections for Seattle-based renters including the school year eviction ban and the winter eviction ban; however, those dates are not marked, as during 2022, they were overshadowed by the duplication of the moratorium created by the Mayor's emergency order.
It is clear there was a large spike in unemployment in early 2020, which mirrored a steep and continued accumulation of past-due rent. Unemployment returned to the historical average range in the middle of 2021. Unemployment dropped below the 10-year historical average in August 2021 and has remained below the 10-year average since. But why such a sharp turnaround on past due rent around July of 2021? And why the sharpest decrease in past-due rent in the month of March 2022?
A few things happened: Eviction Prevention and Rent Assistance Program (EPRAP) payments had been coming in slowly (emphasis on slowly) starting in late 2020; however, they started getting issued in larger amounts beginning in July 2021. By May 2022, the EPRAP payments dried up. Our past-rent data shows that instead of flattening out as unemployment improved, past-due rents began to decline almost as fast as they grew. And as the EPRAP payments stopped coming in, delinquency stabilized for a few months from May 2022 to August 2022. The sharpest single-month improvement in past due rents was March 2022, the month when the eviction moratorium ended. Curious indeed.
In recent months, we have seen a steady increase in unpaid rents. It is too early to know if this is due to larger economic effects or if the school year and winter eviction bans play a role in this. Likely all three.
By the end of November, despite EPRAP payments, charities, and forgiven rent, the total back rent is still 6.8x our pre-pandemic past-due rent. Even at the best point in July, delinquency was at 5.2x our historical past-due rent. The original moratorium served its purpose during 2020, but overstayed its need by at least a year, possibly putting tenants into debt that they may never pay.
Pilot Property Management (PPM) is the property management division of Pilot Ventures. Founded in 2017, PPM manages a diverse portfolio of more than 60 properties in the Puget Sound region and provides its clients with the most comprehensive property management services.
For more information or to get a management proposal for your property please email darren@pilotnw.com.